Welcome
Parkinson's disease and other movement disorder treatments are constantly evolving. They can be disabling and significantly impact quality of life. An accurate diagnosis and treatment by a medical team that specializes in these often challenging and complex disorders is key.
At the Stony Brook Parkinson's and Movement Disorders Center our expertise is sought out by community neurologists across Long Island to diagnose and treat challenging and complex cases. Our team includes neurologists; a neurosurgeon; psychiatrists; neuropsychologists; a social worker; a dietician; and physical, occupational and speech therapists; all of whom specialize in movement disorders.
This specialized team approach across various disciplines enables us to provide a thoughtful and holistic comprehensive approach to individualized treatment for each patient. After evaluating patients, we ask them about their goals — expectations for better quality of life and mobility — and then we customize the treatment to help our patients meet their goals and restore functional abilities. Our center also offers deep brain stimulation (DBS) as one of the treatment options for Parkinson's disease, dystonia, essential tremor and Tourette's syndrome.
Our team looks forward to helping you and your loved ones reach your goals, receive the resources and support you need for a better quality of life.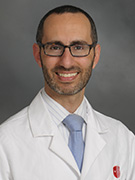 Guy Schwartz, MD
Movement Disorders Neurologist
Director, Stony Brook Parkinson's and Movement Disorders Center
Chuck Mikell, MD
Movement Disorders Neurosurgeon
Co-Director, Stony Brook Parkinson's and Movement Disorders Center