Neuromodulation is a type of therapy that's used to treat and enhance quality of life in individuals who suffer severe chronic illness such as persistent pain; spinal injury; spasticity; movement disorders; epilepsy; treatment resistant depression; stroke; diabetic neuropathy; cardiac, bowel or bladder dysfunction; and visual or auditory disorders. In many cases, the use of neuromodulation can be life-changing.
The role of electricity and magnetic fields
One of the ways neuromodulation therapy can be delivered is by using electricity. The electricity can be given directly by electrodes implanted in the brain, or noninvasively through electrodes placed on the scalp. It can also be given by using magnetic fields applied to the head. In each case, the device used can stimulate a response where there was previously none, (i.e. a cochlear implant restoring hearing in a deaf person). Or, it can be used to stop a response where there was previously an uncontrollable one, (i.e. a person with essential tremor, epilepsy, or Parkinson's disease.)
Range of neuromodulation therapies
The Stony Brook Neuromodulation Center provides a full spectrum of neuromodulation therapies including:
Choosing the right treatment plan, which may also include medication and counseling, should be based on a person's individual needs and medical situation, and under a doctor's care.
Access to clinical trials
For every existing neuromodulation treatment, there are also many more on the horizon. As an academic health center, our patients have access to many of the latest clinical trials. For example, Stony Brook is part of a randomized trial to develop vagus nerve stimulation for depression.
Recognized Clinical Excellence
As the only hospital on Long Island to receive the distinction of being named as one of America's 100 Best Hospitals by Healthgrades for the past four consecutive years (2019, 2020, 2021, 2022). Stony Brook was also recognized as one of the nation's best hospitals in 2021 by U.S. News and World Report, which also ranked Stony Brook in the top 4% nationally (# 41 from a field of 1,241 hospitals) in Neurology and Neurosurgery. This recognition reflects our deep medical expertise, commitment and track record of delivering excellent outcomes for our patients. So you can rest assured you will be in good hands.
We look forward to helping you find the neuromodulation therapy that's right for your needs to help you enjoy life more fully.
Sincerely,
Marc Halterman, MD, PhD
Co-Director, Neurosciences Institute
Chair, Department of Neurology
Stony Brook Medicine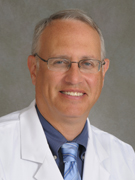 Raphael Davis, MD
Co-Director, Neurosciences Institute
Chair, Department of Neurosurgery
Stony Brook Medicine
Anissa Abi-Dargham, MD
Co-Director, Neurosciences Institute
Chair, Department of Psychiatry and Behavioral Health
Stony Brook Medicine
Alfredo Fontanini, MD, PhD
Co-Director, Neurosciences Institute
Chair, Department of Neurobiology and Behavior
Stony Brook Medicine