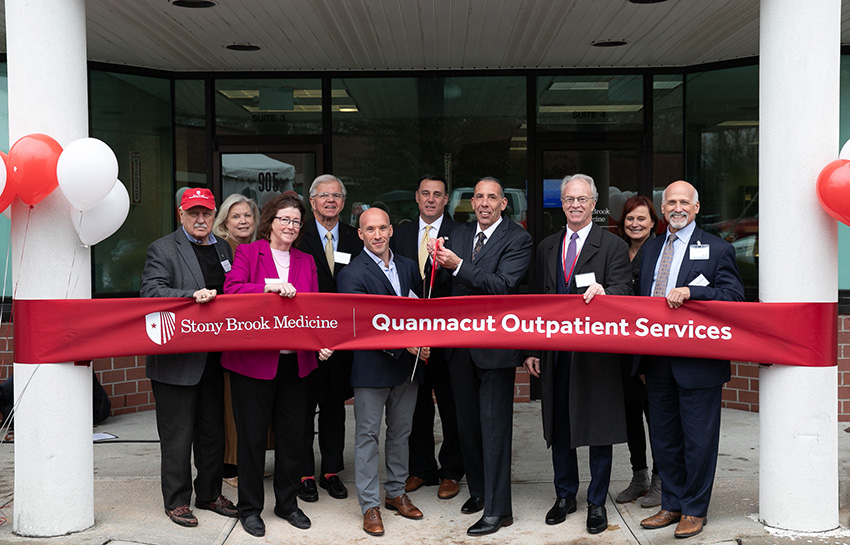 Left to right at the ribbon cutting ceremony for Quannacut Outpatient Services are New York State Senator Kenneth LaValle; Ann Marie Csorny, LCSW, Director of Suffolk County Department of Health Services, Division of Community Mental Hygiene; Margaret M. McGovern, MD, PhD, Vice President for Health System Clinical Programs and Strategy, Stony Brook Medicine; New York State Legislator Fred W. Thiele Jr.; Jarid Pachter, DO, Medical Director, Quannacut Outpatient Services; New York State Legislator Anthony Palumbo; David Cohen, Director, Quannacut Outpatient Services; Paul J. Connor III, Chief Administrative Officer, Stony Brook Eastern Long Island Hospital; Catherine Kent, Deputy Town Supervisor and Councilwoman, Riverhead Town; and Richard Rosenthal, MD, MA, Director, Addiction Psychiatry, Stony Brook Medicine.
Stony Brook Medicine celebrates opening of new behavioral health facility
Shortly before Thanksgiving, Stony Brook Medicine's Quannacut Outpatient Services commemorated the opening of its new behavioral health facility at 905 East Main Street in Riverhead.
"Quannacut," the Native American word for "hope" or "rainbow," defines the facility's culture and mission in addressing addiction as a treatable disease. The program supports a transformational change within the Stony Brook Medicine healthcare system and increases access in services for "at risk" populations across Eastern Long Island.
Addressing all areas of one's physical and mental health
While medication can be the most vital and lifesaving component of treatment for some patients, full recovery and health cannot be accomplished unless all areas of one's physical and mental health are addressed. Quannacut is uniquely equipped to provide patients with all outpatient care in one location. From in-depth intake evaluations to short- and long-term follow-up care plans, it provides access to world-class substance use treatment. The program uses a medical, psycho-therapeutic approach to patient care, specializing in co-occurring disorders.
Programs for adults with diverse needs across a wide variety of treatment disciplines — including psychiatric, cultural, physical health and criminal justice — are highly individualized. Staffing includes on-site medical and psychiatric physicians and therapeutic staff, with over 85 percent of staff trained at the clinical Masters level and above. Specialists work together to identify, and tailor customized, targeted treatment plans for each patient's unique dependency profile.
Successful treatment does not take place in a vacuum
Clinicians evaluate patients' immediate substance use issues, as well as the impact on their support system, family members and significant others. Services include assessment/evaluations, individual group, marital and family therapy, psychiatric evaluations, psychiatric, medication assisted treatment, medication management, primary care medicine and walk-in evaluations.
Facility highlights
The new Quannacut Outpatient Services facility is just as unique the program's integrated treatment model. Highlights include:
Design that supports client care and comfort

All rooms decorated in neutral/quiet tones to promote calm, with banquette seating throughout

Two segmented waiting areas, each with Wi-Fi network access and televisions

Three medical exam rooms equipped to perform a wide array of screenings and tests, including EKGs

Varied size therapy spaces outfitted with audiovisual systems for patient education to accommodate one-on-one, small and large groups in private settings

Digitized educational materials shared on 65-inch flat-panel televisions in therapy spaces.
Support from Stony Brook Medicine healthcare system
Quannacut combines with Stony Brook Eastern Long Island Hospital (SBELIH) to provide a comprehensive array of inpatient and outpatient services, including Inpatient Addiction Intake/Rehab/Detox Services at SBELIH in Greenport:
10-bed Detoxification Unit

23-bed Inpatient Psychiatry Unit

20-bed Rehabilitation Unit
And to ensure a complete and comprehensive treatment plan, state-of-the-art teleconferencing and electronic medical record abilities seamlessly connect Quannacut with all three acute-care hospitals in the Stony Brook Medicine healthcare system — Stony Brook Southampton Hospital, Stony Brook Eastern Long Island Hospital and Stony Brook University Hospital.
The grant that made it possible
The Quannacut expansion was made possible by The New York State Department of Health, which awarded Eastern Long Island Hospital (now Stony Brook Eastern Long Island Hospital) a $1.6 million grant to support and improve its Substance Use Disorder and Primary Care Services. Quannacut Addiction Services at SBELIH in Greenport has for years been one of the few facilities in Suffolk County to offer a full range of behavioral health services for individuals with addiction and mental health issues.
Quannacut in Riverhead has provided treatment for alcohol and substance use on an outpatient basis since 2001. The State's generous grant made the Riverhead expansion possible, with the new 14,000-square-foot facility being nearly three times the size of its previous location, more than doubling patient capacity. Total patient visits are expected to be between 18,000 and 20,000 per year.
Living in the solution, not the problem
David Cohen, Director of Quannacut Outpatient Services, is gratified by the change he sees in people who enter the program devastated by their substance use but become empowered as they develop skills and strategies to manage their day-to-day lives.
In the words of one Quannacut success story, Brendan Carle, "My teachers and experiences at Quannacut afford me the opportunity to take on life without the need to pick up a drink or drug and always remind me to live in the solution and not in the problem."
A key point that Quannacut instills is that addiction and alcoholism does not discriminate and that there is strength in acknowledging you have a substance use disorder.